 World Class German Shepherd Breeders
The breeder on a small scale, one who works with one or two bitches, is the most suitable breeder for working dogs because he can care for his breeding animals and their progeny… and can produce sound strong animals that can be trained."
– Max von Stephanitz, Architect of the German Shepherd Dog breed
!!Champion Litter!!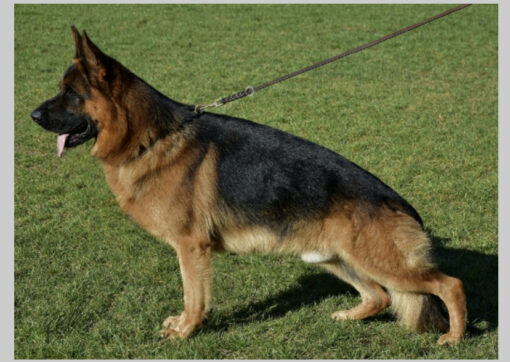 Father: Hachiko vom Messina
Hachiko is a WORLD renowned dog. He is a 2 times VA dog and is the current #2 male in the United States. He has ranked among the elite dogs in Germany and is now here in the USA to contribute his amazing qualities to GSD's here. He is a very powerful male with substantial character. Hachiko is very well pigmented and has absolute correct conformation with strong flowing movement. His offspring have placed within the top 10 in the world and continue to make great achievements. Hachiko is no doubt one of the best VA Nero v Ghattas sons there is and is a top male in the USA!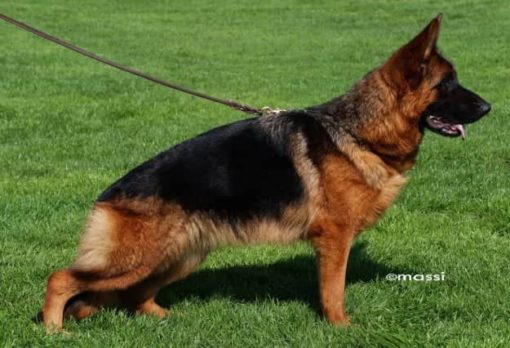 Mother: Jetta vom Lüttersbruch
Jetta is an impressive female that ranked number 45 in the WORLD in 2018. She has won multiple 1st place rankings in Germany and Europe. Her father was Gondor von Regina Pacis who ranked number 10 in the WORLD in his class at the German Sieger show. She has multiple World Champions in her pedigree. Her daughter was the #1 youth female in the WORLD in 2021!! She is a medium sized female with great proportions and pigment. Jetta is noted to have a very expressive head with a commendable dark mask. She has a wide ranging gate with a free forward reaching motion. She is no doubt a TOP German Shepherd female and produces fantastic offspring!!
The combination of Hachiko & Jetta is sure to produce the highest quality of puppies you can get here in the USA. Both parents bring wonderful attributes to their offspring and also compliment each other very well. These puppies will have stable temperaments for either work or family pets. Each puppy will have deep rich pigment and a gorgeous thick coat that German Shepherds are known for as well as superb conformation. Both parents have achieved high rankings in show while in Germany as well as the USA which will undoubtedly produce puppies that can achieve high rankings in show whether here or in Europe. This is the BEST of the BEST. We couldnt ask for a better mating combination and we look forward finding the perfect puppy for you and your needs!!
SOLD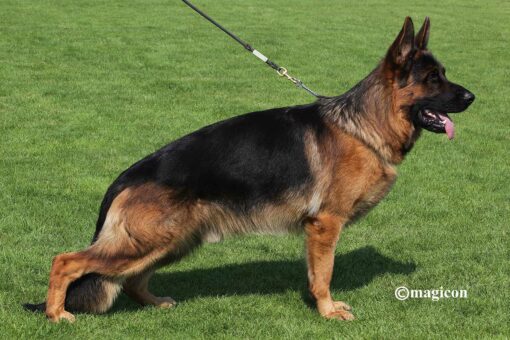 Father: Usher aus der Brunnenstrasse
The breeding winner of the year 2022 is large, medium-bodied, rich with a slightly accentuated building extension, very well pigmented, expressive, dry and firm. Strong, well-formed head with dark eyes and correct ears, high withers, straight back, the croup has good length and location. Correct angles in the forehand and hindquarters, balanced chest ratios, straight front. With correct pedaling sequence and stable hindquarters, Usher shows fluid, expansive gaits with free priority from powerful replenishment in a very good equilibrium position. Usher has undergone excellent development and reached a high degree of maturity.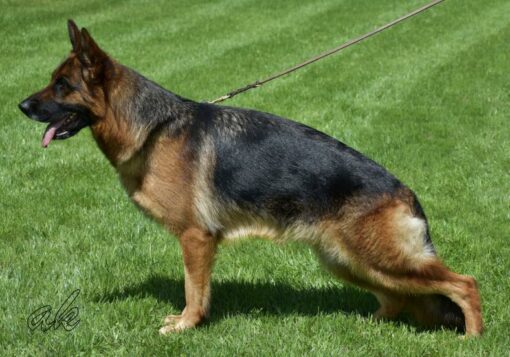 Mother: Quigky vom Messina
Large, medium-powered, rich, very type- and expressive, good building conditions. Straight, firm back, good length and position of the croup, very good angles of the forehand and hindquarters, correct front. Balanced chest ratios, straight crotch sequence, powerful, far-reaching gait with very good presentation. Safe nature, TSB pronounced.
These puppies are from the best breeding in our kennel to date!! Quigky is a super female who ranked #23 in the World amongst over 200 other competing dogs. She is the daughter of the legend Asap vom Aldamar who has produced the highest quality of German Shepherds. The father is the WORLD RENOWNED  VA1 Usher aus der Brunnenstrasse. He is the current WORLD Champion and the most saught after stud in the WORLD. These puppies will be absolutely correct in conformation as well as have the ability to be a working dog and top contender in shows!! They will also make eye catching family companions, sure to turn heads where ever they go!!