 World Class German Shepherd Breeders
The breeder on a small scale, one who works with one or two bitches, is the most suitable breeder for working dogs because he can care for his breeding animals and their progeny… and can produce sound strong animals that can be trained."
– Max von Stephanitz, Architect of the German Shepherd Dog breed
SOLD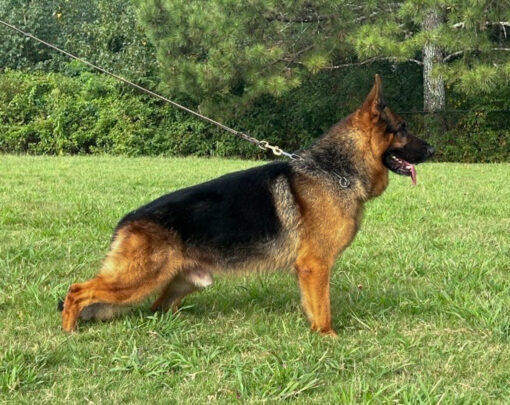 Father: Rollo von Bienenwald
Rollo is an excellent male that has great confirmation and a superb temperament. He is pink papered and was bred and born in Germany. He is a multiple first place winner of shows in Germany and is the #13 male in the United States. He has a great prey drive and willingness to work, yet also has a great off switch that allows him to be a loved house dog. He produces very well pigmented puppies with great personalities.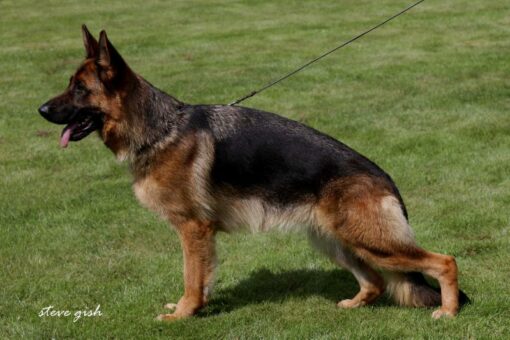 Mother: Zariha von der Friehiet Westerholt
Zariha is a German bred and born German Shepherd and the daughter to the #3 GSD in the World in 2017, the famous Marlo von Bacarra. She has a loving temperament and is a wonderful mother. She was been trained to IPO3 while in Germany which is passed to her offspring making them highly intelligent and trainable dogs. She has great confirmation and is absolutely correct in size. Her litter mate, Zar was the #2 GSD in the World in 2019. These incredible genetics make Zariha the perfect breeding bitch for a show dog or pet.
The combination of Rollo & Zariha are going to produce spectacular puppies. Any puppy from this litter will sure to be an exemption of quality for show or for a stunning pet. Both parents have been extensively trained while in Europe to ensure a highly intelligent and trainable dog. Rollo & Zariha have also been xrayed and a free of dysplasia which ensures you will also have a heathy puppy for many years to come. Puppies will have well balanced temperaments suitable for sport or for pets. We are very excited about this litter due to the quality of the parents. If you'd like a TRUE German Shepherd please click the "purchase dog" tab to be forwarded to our questionnaire!!
SOLD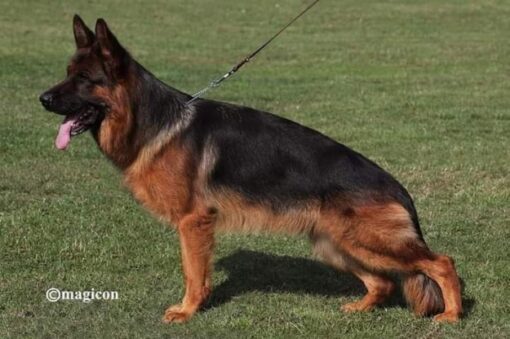 Father: Youles von Aducht
Youles is a Gorgeous male that is at the top of the list for TOP males in the WORLD. He placed V2 at the German Sieger Show in 2021 and will place among the top 10 in 2022. His father is the German Vice Sieger 2019 Kaspar von Tronje. Youles is producing amazing progeny in Germany and all over Europe. His offspring boast the absolute correct structure and pigment that their father has, as well as an ability to work!! He is a magnificent male that brings a wonderful alternate bloodline to anyone looking the purpose of breeding SUPERIOR dogs.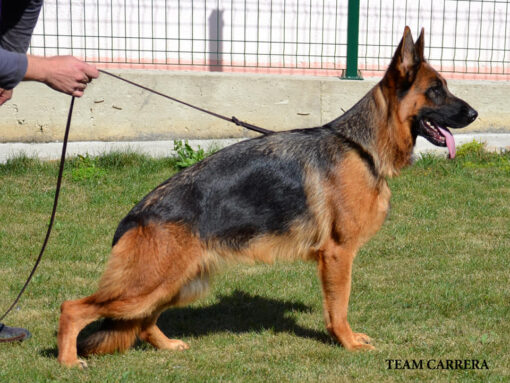 Mother: Darja od Petkovica
Darja is a Beautiful female that embodies the feminine GSD. She is a medium size bitch with rich pigment and correct confirmation. Her father is the super producer Freddi von Modithor. Darja's pedigree is filled with amazing dogs including two different mothers of German VA dogs as well as multiple male German VA dogs!! She has a strong desire to work and has the energy that a true German Shepherd should have to perform said work. Yet she can also be a loving family dog. She is an absolutely balanced female that no doubt produces stunning puppies!!
The combination of Youles and Darja is a litter to look forward to!! Both dogs have World Champions filled through out their pedigrees. The puppies will be clear headed, balanced & gorgeous dogs. The mating took place in Germany and Darja was then sent back to us here in the United States. This is an opportunity to own a puppy from one of the most sought after males in THE WORLD!!